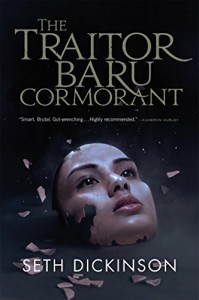 I think this might be one of the most important books I've ever read. Forget that "genre fiction" disclaimer, this is the real deal. I don't even know what to say. Anything I do say may be too telling.
Okay, I'll say this: this is a story we are, on some level, all familiar with. We know the history of the world. It's written by the winners, and what have the winners, the venerated winners, always done? They've dominated and pillaged in the name of civilizing, saying as they outlaw the customs and dress and language of the Celts, the Aborigines, the Native Americans, insert-a-colonized-people here, that they bring roads, medicine, law, God, correct and decent behavior, and so-on. They've changed the names of mountains, cities, continents. They've played at eugenics, taken children away from parents to be "educated" out of their own customs, culture, their own minds. They've made internment camps, death camps. They've sterilized, enslaved. I could go on.
"And her mother's answering disdain: Go, then. Learn all their secrets. Cover yourself in them. You will return with a steel mask instead of a face."
Baru is someone who grows up in a place where these things are happening, and her story is full of intrigue, rebellion, hope, devastation, love, betrayal, victory and defeat and something in between. She is a glimpse into the divided loyalties and motivations of a person forced to join 'em in order to beat 'em. Maybe. Maybe that's part of what she is, I'm not entirely sure I know. Baru makes my heart and my brain hurt if I think about her too long.
This book is about all that, but it's about so much more. I won't lie, this will knock the wind right out of you. But you won't regret it. It might change something inside of you though, the best books always do. So be prepared for that.
"I will write your name in the ruin of them. I will paint you across history in the color of their blood."
Let's Discuss!
What are your thoughts? Am I over-extolling the virtues here? I'd love to know if any of you had the same gut-punch feeling at the end.